AMD cards struggle in Assassin's Creed: Origins performance test
AMD cards struggle in Assassin's Creed: Origins performance test
"Assassin's Creed: Origins just released, and we have our review in progress discussing the finer points of the game and environments. But what does it take to actually run the game well? I haven't had a chance to test all the hardware combinations I plan on checking, but I have run through nearly all the current generation GPUs from AMD and Nvidia. After the rocky launch of Unity and a year break for the team following Syndicate, I hoped performance on Origins would be better. Unfortunately, like the past few iterations, you're going to want to bring the heavy guns to bear."_ PCGAMER
AMD cards struggle in Assassin's Creed: Origins performance test
For these tests, These are the spec of the used rig :  Intel's latest Coffee Lake i7-8700K processor on MSI's Z370 Gaming Pro Carbon AC, with 16GB of G.Skill TridentZ RGB DDR4-3200 CL14 memory, housed in Corsair's Carbide Air 740 and powered by a Corsair RM650x PSU. Games are run from a Samsung 850 Pro 2TB SATA SSD, with a Samsung 960 Evo 500GB M.2 drive as the OS/boot drive. The graphics cards are mostly MSI Gaming X models, with a couple reference cards for AMD's Vega 56/64. The complete list of GPUs tested is on the right.
Besides the graphics card, which covers the entire range of budget to extreme hardware, this is a cutting-edge gaming PC that should handle just about anything you might throw at it. One thing it won't handle, however, is GTX 1080 Ti SLI—apparently the combination of i7-8700K and dual 1080 Ti cards (all running stock, mind you) is too much for the 12V rails on the RM650x, as it would reset under heavier workloads. But SLI doesn't appear to work on AC: Origins, at least not yet, and I generally recommend single GPU configurations for a better overall experience. For testing, all GPUs ran the latest drivers—388.00 for Nvidia and 17.10.2 for AMD. Both drivers include specific optimizations for AC Origins, according to their release notes, though as we'll see momentarily, that doesn't mean performance is where it should be.
AC Origins includes a built-in benchmark, under the graphics menu, which is what I used for testing. I captured framerate data using OCAT (see below), for additional analysis. I also did a manual performance run through the starting city of Siwa, including sword fights, assassinations, and riding around on a horse, and found that the built-in benchmark gives a reasonable comparison point. Variation between runs is lower, and it's within a few percent of the performance I measured while playing the game normally.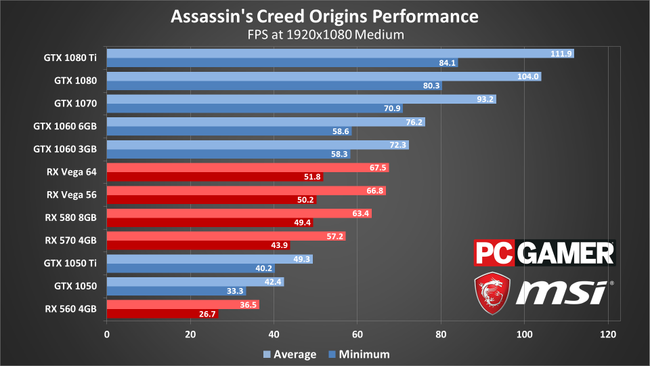 Starting at 1080p medium, which represents a decent compromise between performance and image quality, AMD users should immediately see some red flags. The fastest AMD GPUs max out at less than 70 fps, with dips well below that mark, while Nvidia GPUs can break into the 100+ fps range. More critically, even the GTX 1060 3GB is able to beat the Vega 64. There's obviously more work to do to get Assassin's Creed: Origins running well on AMD hardware, and Nvidia easily wins any comparisons you might make at these settings.
Moving up to 1080p ultra, Nvidia continues to dominate, with the 1060 6GB beating every AMD GPU. The game settings menu estimates VRAM use of about 2.8GB using these settings, so the 1060 3GB still manages to perform well enough, but for very high and ultra quality you'll likely want a 4GB GPU. I'll discuss the settings more in a moment, but AC Origins can definitely push your GPU to its limits.
1440p ultra is playable on the 1060 6GB and above, though it won't get above 60 fps unless you drop some settings. Origins at 30 fps isn't terrible, but I definitely feel the lag and choppiness, and after playing at 60 fps it's a noticeable drop. If you're serious about 1440p ultra, the 1080 Ti is the only real solution for now—that or use the 1080 and drop down to high quality. I'll show the full benchmark sequence once I finish testing, but the 'minimum' framerates appear consistently and for extended periods, so it's not just a few occasional dips below 60.
Not surprisingly, 4k ultra is mostly out of reach for now. The 1080 Ti does reasonably well, and you can get 4k above 60 fps by tweaking the settings. Most other cards will want to target both a lower resolution and slightly lower than ultra settings to keep performance smooth.
Assassin's Creed: Origins settings overview
There are 15 settings that can be tweaked that directly affect image quality and help improve performance. There are also several others that are related but affect performance in other ways—like resolution scaling, adaptive quality, v-sync, and the framerate cap. Individually, most of the settings only have a moderate effect on performance, and that's when going from maximum quality to minimum quality. Which settings can have the greatest impact?
For GPUs with less than 4GB VRAM, the texture detail might be worth adjusting down a notch or two. Most graphics cards released in the past several years should have at least 2GB VRAM, which is enough for the medium quality preset, but GPU performance may necessitate dropping things even lower.
If you have enough VRAM, the impact of the combined settings appears to be the product of the individual settings—meaning, there aren't many 'freebies' that you can leave on with zero change in performance. However, eight of the 15 settings in limited testing have less than a 1-2 percent impact on performance. The settings that have the greatest impact on performance are Shadows and Ambient Occlusion, each of which can gain about six percent in performance. Fog, Terrain, Clutter, and Anti-Aliasing are the only other settings that show a greater than two percent improvement in performance, so if you need to tweak things I'd start there.
The problem with trying to optimize AC: Origins performance is that it's simply demanding at virtually any setting. The Very Low preset that runs everything at the built-in minimum quality improves performance by about 50 percent, which isn't that much. If you have a GPU that only gets 15 fps at 1080p ultra, dropping to minimum might get you above 20 fps, but you'll still likely fall well short of 30 fps.
In terms of visuals, going from the Very Low to the Low preset yields a good improvement in image quality with a negligible change in performance (about five percent). Similarly, going from Very High to Ultra only drops performance about three percent, so I'm not sure why Ubisoft felt the need to include six presets when two of them are mostly redundant—we would have been fine with Low/Medium/High/Ultra.
Benchmarking tips
One thing I haven't discussed much lately is my method for benchmarking games. Normally, I use FRAPS—it's not perfect, but it's a well-known quantity. Assassin's Creed: Origins doesn't like FRAPS, unfortunately, but it took me a couple of hours of poking around to figure out what was going on. With FRAPS running, if v-sync is disabled, you get this weird, horrible mouse input problem, where sometimes the mouse works fine, and other times you can move the mouse across your desk and only barely cause your character to turn. Turning on v-sync fixes the issue, but that's no good for benchmarking. The keyboard and a gamepad also work fine, which is why it took me a while to figure out the root cause.
The game does include a built-in benchmark, but the results it spits out don't include individual frame times, so that wouldn't work for my purposes. So for Origins, I shifted testing to OCAT, basically a wrapper for PresentMon, but there are potential issues with OCAT as well. I discovered in Forza Motorsport 7 that OCAT was using more CPU time than it should, which is part of what caused the erratic benchmark results. You can mostly get around this by setting affinity for the OCAT process to only your last CPU core (so core 11 in task manager on the i7-8700K), but on CPUs with fewer cores/threads this might not be sufficient. (You can do the same thing with FRAPS as well, incidentally.)
I mention the issues I experienced with FRAPS mostly to highlight the potential for other programs to severely impact performance. If you're having weird behavior or poor performance in Origins, I recommend trying to run a 'clean' build. So no open web browsers, other utilities, etc. You can try playing with your usual setup in place, naturally, but CPU requirements appear to be higher than average and you might want to trim things down—particularly if you're using an older/slower CPU.
Are the system requirements accurate?
Ubisoft gives the following minimum and recommended system requirements:
Minimum
OS: Windows 7 SP1, Windows 8.1, Windows 10 (64-bit versions only).
Processor: Intel Core i5-2400s @ 2.5 GHz or AMD FX-6350 @ 3.9 GHz or equivalent.
Video card: NVIDIA GeForce GTX 660 or AMD R9 270 (2048 MB VRAM with Shader Model 5.0 or better).
System RAM: 6GB.
Resolution: 720p.
Video Preset: Lowest.
Recommended
OS: Windows 7 SP1, Windows 8.1, Windows 10 (64-bit versions only).
Processor: Intel Core i7- 3770 @ 3.5 GHz or AMD FX-8350 @ 4.0 GHz.
Video card: NVIDIA GeForce GTX 760 or AMD R9 280X (3GB VRAM with Shader Model 5.0 or better).
System RAM: 8GB.
Resolution: 1080p.
Video Preset: High.
I haven't done any meaningful CPU testing yet, but the GTX 660 shouldn't be too far behind the GTX 1050 in performance—maybe 20-30 percent slower. That should be sufficient to keep it above 30 fps on the Low preset, but probably not much more than that. The R9 270 is going to have a rougher go, considering it should be somewhat slower than the RX 560, and the 560 already drops below 30 fps at the medium preset. However, the low preset again should keep it in playable territory.
The recommended specs are a significant step up in performance, with the GTX 760 and R9 280X normally landing between the GTX 1050 and 1050 Ti in performance. Given what I've seen with the latest generation GPUs, I suspect the older Tahiti architecture used in AMD's card will end up falling below the 1050 Ti, but 30-50 fps at 1080p medium should still be doable.
What would I recommend as a good baseline for performance? I'll have more details next week, but for now if you're planning on a GPU upgrade for AC Origins, I'd look at the GTX 1060 6GB as the best overall value. It's fast enough for 1080p high/ultra settings, and it costs $250. For 1440p gaming, the upcoming GTX 1070 Ti and the existing 1070 and 1080 cards will be your weapons of choice, assuming you can't manage to splurge on the 1080 Ti. Check back next week for our full testing results.
Otaku,Cats lover and of course the founder of www.pr0t3ch.com "When life gets hard.. just Watercool and OVERCLOCK !"
×
Otaku,Cats lover and of course the founder of www.pr0t3ch.com "When life gets hard.. just Watercool and OVERCLOCK !"